Best Mechanical Keyboards with Display Screen 2023
Dive into the world of Mechanical Keyboards with Display Screens. Explore top models like the Coolkiller CK98 3Mode, Kzzi K75, and more. Discover the future of keyboards..
Published: August 24, 2023
---
Disclaimer: Some links are affiliate. I may earn a commission at no extra cost to you. Thanks for supporting my blog
The world of mechanical keyboards has seen a mesmerizing evolution over the years. From the simple, tactile switches to dazzling RGB backlighting, and now, the introduction of screens and displays. With screens, keyboards transform from mere input devices to interactive tools, capable of displaying vital information, notifications, and even adding a touch of personal flair with customizable graphics and animations.
But why the sudden interest in screens on keyboards? Is it just a passing trend or a genuine step forward in the world of computing? This article delves deep into the world of mechanical keyboards with screens and displays, exploring their benefits, features, and the remarkable possibilities they bring to the table.
Why a Screen on a Keyboard?
Imagine having quick access to system stats, notifications, or even your Discord chats right at your fingertips. That's the convenience a screen on a keyboard offers. But it doesn't stop there. These screens are completely customizable, allowing users to display GIFs, a clock, CPU usage, and much more. For gamers, this feature is a game-changer. Imagine having game stats, maps, and other essential data displayed right on your keyboard. It's not just functional; it's phenomenal!
Things to Consider and Differences between Displays
Before you jump on the bandwagon and get yourself a keyboard with a screen, there are a few factors to consider:
Screen Resolution and Customization Options: Not all screens are created equal. Some offer higher resolutions, while others provide more customization options.
Compatibility: Ensure the keyboard's screen is compatible with the software and games you frequently use.
Durability and Build Quality: A screen is an additional component, and you'd want to ensure it's built to last, just like the rest of the keyboard.
OLED vs. LCD Screens: OLED screens offer better contrast and can display deep blacks, while LCDs are more common and might be cheaper.
Touchscreen vs. Non-Touchscreen: Some keyboards come with touch-enabled screens, adding another layer of functionality.
---
Best Overall and Programmable Display Keyboard: Epomaker RT100
The Epomaker RT100 stands out as a top contender in the realm of mechanical keyboards with screens. Priced at a competitive US $115.99, this 97-key gasket mount keyboard offers a blend of wireless and wired connectivity options, including 2.4Ghz, Bluetooth, and USB-C.
Design and Build
The RT100 boasts a classic, timeless design reminiscent of old IBM keyboards but updated with modern features. Its warm color palette and retro aesthetics are complemented by a solid build quality. The keyboard's top plate is slightly recessed, and it features subtle curves on the sides, giving it a distinctive look.
Connectivity: The keyboard can be paired with up to 4 devices (3 via Bluetooth and 1 via 2.4Ghz). The connection is robust and fast.
Mini Display: A unique feature of the RT100 is its detachable mini display. This 1.25-inch screen can showcase the day, time, battery life, light adjustments, connection type, and even images or animated GIFs. However, some users have noted that the display might not always wake up from sleep promptly and can sometimes show inaccurate information.
Typing Experience: The RT100 uses the Epomaker Sea Salt Silent Switch, ensuring a tactile and satisfying typing experience. The noise level is minimal, making it suitable for quiet environments.
Customization: The keyboard comes with drivers for both Windows and Mac, allowing users to customize keyboard shortcuts, LED light effects, and even the content displayed on the mini screen.
The Epomaker RT100 is a fantastic choice for graphic designers and anyone who values both aesthetics and functionality in a keyboard. Its beautiful design, combined with its silent switches and customizable features, makes it a standout product in its category.
---
Most Interesting Design Keyboard: Coolkiller CK98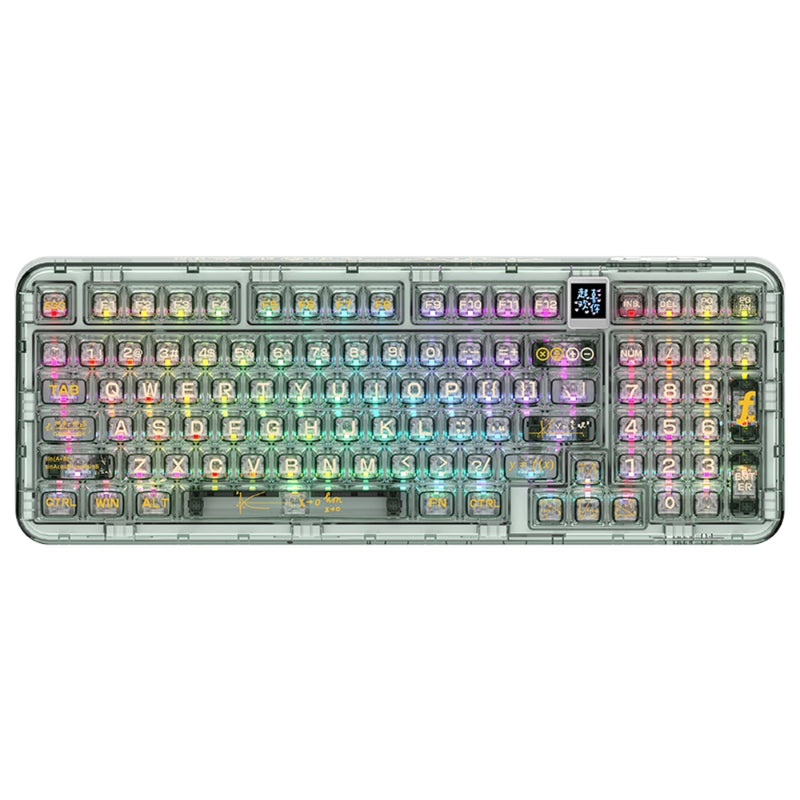 The Coolkiller CK98 by Epomaker is not just another mechanical keyboard; it's a statement piece. With its unique design and features, it promises to be a standout in any setup.
Design and Aesthetics
The CK98's design is a nod to the retro aesthetics of old IBM keyboards but with a modern twist. Its transparent keycaps give a glimpse into the keyboard's inner workings, reminiscent of tech gadgets from the late 90s. These keycaps, while offering a unique visual appeal, are made of a slick, slippery plastic, which might take some getting used to.
Connectivity: The CK98 offers three different connectivity options: 2.4gHz, Bluetooth, and USB-C, ensuring versatility in its use.
RGB Lighting: One of the CK98's main attractions is its RGB lighting. Unlike its predecessor, the MC66, the CK98 boasts improved RGB diffusion. Instead of individual keys appearing separately lit, the lights on the CK98 flow uniformly, creating a visually stunning effect.
Mini Display: Embedded into the keyboard is a small screen that can be programmed to display various information, from system temperatures to battery levels. Users can even upload GIFs or images for a personalized touch. However, the screen's angle might make it challenging to view from certain positions, and its visibility can appear washed out from a distance.
Ice Blade Switches: These switches are a departure from traditional tactile switches. They have a longer stem, requiring more travel before actuation. The tactile feedback is more pronounced when the keys spring back up after being pressed. This unique mechanism gives the CK98 a distinct sound profile, characterized by a high-pitched, almost hollow clack.
The Coolkiller CK98 is a blend of retro design and modern functionality. Its unique transparent keycaps, improved RGB lighting, and the inclusion of a mini display make it a fascinating piece of tech. While it might have a few quirks, like the slippery keycaps and the mini display's angle, it's a worthy addition for those who value design and aesthetics in their tech gadgets.
---
Most High-End OLED Display Keyboard: Asus ROG Azoth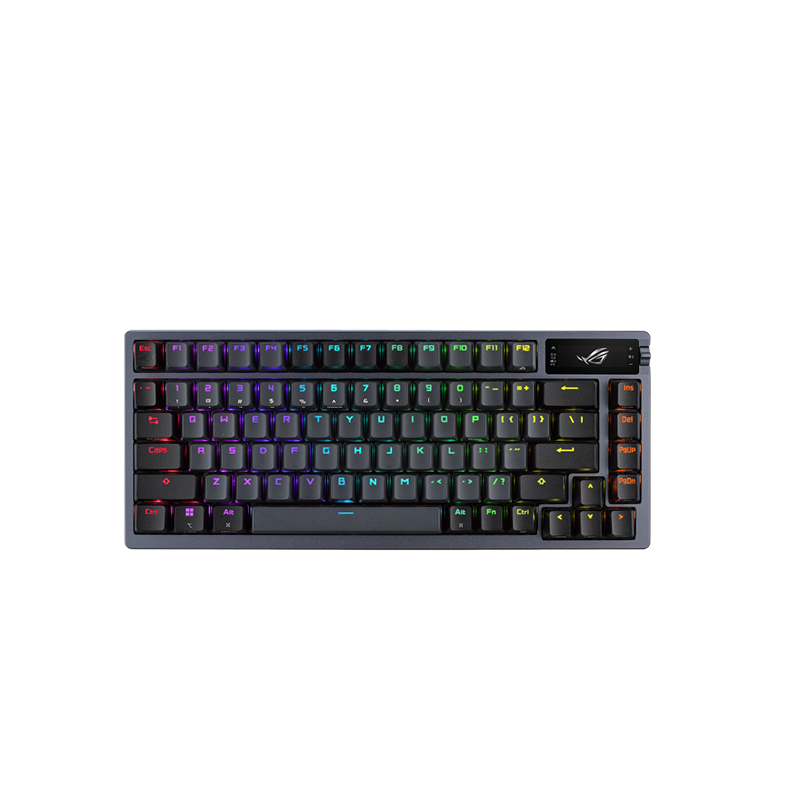 The Asus ROG Azoth is not just a keyboard; it's a testament to the pinnacle of keyboard technology and design. With its compact form factor, wireless capabilities, and a programmable OLED screen, it stands out as a high-end choice for enthusiasts and gamers alike.
Asus ROG Azoth Design and Features
The ROG Azoth is a marvel of engineering, combining aesthetics with functionality. Its compact design ensures it fits seamlessly into any setup, while the programmable OLED screen adds a touch of personalization and flair. This screen allows users to display preset or custom gifs, making the keyboard not just a tool but an extension of one's personality.
Customization with Armoury Crate
Asus's Armoury Crate software powers the customization options for the ROG Azoth. This software, while straightforward, offers a plethora of settings to tweak, including key assignments, macros, power settings, and RGB lighting. The highlight, of course, is the ability to customize the OLED screen, allowing users to make their keyboard truly unique.
The Asus ROG Azoth is a keyboard for those who seek the best. Its OLED display, combined with the customization options offered by Armoury Crate, makes it a top choice for those who want both performance and aesthetics in their setup. However, potential users should be aware of the software's criticisms and weigh them against the keyboard's undeniable benefits.
Low Profile Mechanical Keyboard with Display Screen: Ajazz AK832 Pro
The Ajazz AK832 Pro is a sleek and modern keyboard that offers a low-profile design combined with the functionality of a screen. Priced at $69.99, this 75% gasket-mounted keyboard is both portable and feature-rich.
Design and Features
Ajazz AK832 Pro's design is characterized by its slimness, making it as portable as it is functional. The low-profile switches are 20%-30% lower than regular ones, ensuring faster triggers and a lighter keypress. This 75% keyboard houses 81 essential keys, including arrow keys, function keys, and home clusters. The LED screen can display battery status, date, connection mode, or even custom photos uploaded via the Ajazz driver. This makes the keyboard suitable for both office use and travel.
Connectivity and Battery
The AK832 Pro offers triple modes of connectivity: Type-C Wired, Bluetooth 5.1, and 2.4GHz. With Bluetooth 5.1, users can expect faster response times and more power efficiency. The built-in 2500mAh battery ensures prolonged use, lasting up to 80 hours without backlights and up to 110 hours with backlights turned off in wireless mode.
The Ajazz AK832 Pro is a perfect blend of design and functionality. Its low-profile design, combined with the LED screen and extensive customization options, makes it a top choice for those seeking a modern and efficient keyboard, especially at its attractive price point.
Conclusion
The future of mechanical keyboards is packed with potential, and screens are just the beginning. As technology advances, who knows what other fantastic features we'll see? For now, screens on keyboards offer a blend of functionality and vanity that's hard to resist. Whether you're a gamer, a writer, or just someone who appreciates good tech, there's a screen-equipped keyboard out there for you. So, explore, experiment, and find the best fit for your needs.
For more searching and comparing mechanical keyboards with display screen, you can use KeebFinder's Keyboard Collection with Displays featuring a wide range of different shops.