Nuphy Air75 V2 Review & Sound Test - KeebFinder
Seeking a blend of aesthetics, function, and value in a keyboard? Join us as we unravel the features, pros, and cons of the Nuphy Air75 V2. Discover if it stands out as the ideal tool for your digital endeavors.
Published: October 22, 2023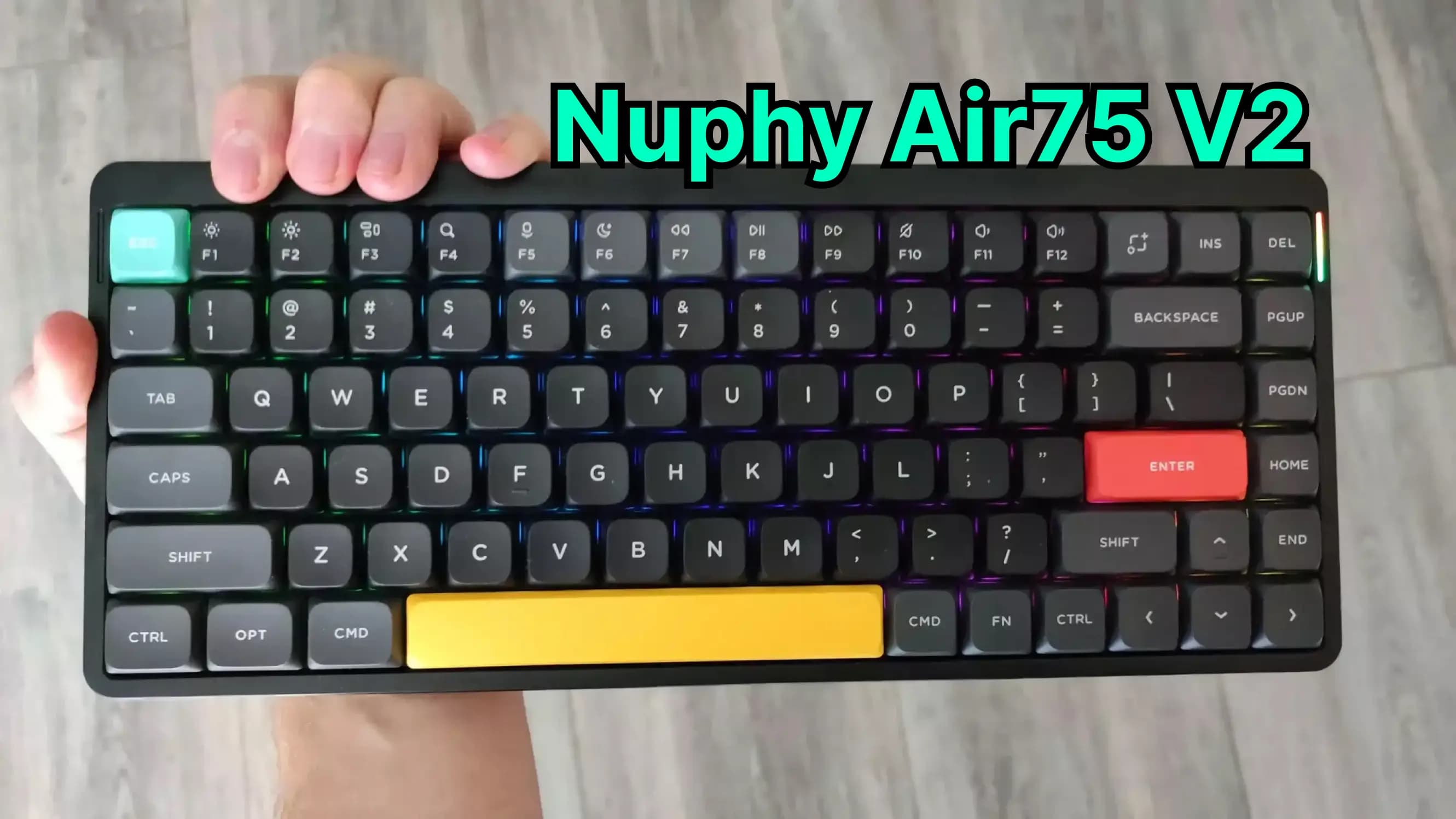 ---
Disclaimer: Some links are affiliate. I may earn a commission at no extra cost to you. Thanks for supporting my blog
Crafting this website from scratch meant countless hours of coding, and guess what? All of it channeled through my keyboard. It's more than just a tool; it's the bridge between my thoughts and the digital canvas.
I've always wanted a keyboard that's portable, has a great design, is Mac and Windows compatible, and lets me customize it just the way I like. That led me to the Nuphy Air75 v2. But did it live up to the hype? Let's find out.
Quick Glance: Pros and Cons
For those who like a snapshot without wading through details:
Here is my rating of the Nuphy Air75 V2:
Yes, that is pretty green! I've become quite the enthusiast for the Nuphy Air75 V2. Striking a harmonious balance between construction, features, and aesthetics, it has effortlessly replaced my erstwhile Epomaker TH80 and stands as my steadfast work companion.
Pros
Really well build quality
Every surface feels just premium
QMK/VIA compatible making providing extensive and easy to setup customization options
Very good typing experience and sound
Compact yet stylish design, epitomizing portability
Cons
Steep shipping fees (at least to Germany)
Limited customization options for keycaps
---
Aesthetic and Build
The design, which is of course subjective, is truly impressive. Not just the keyboard itself, but also the packaging and the wrist rest I purchased are exceptionally designed. The surfaces boast a matte and smooth finish. Each key feels secure and provides a satisfying click. The two LED bars on either side of the keyboard are more than just decorative—they also indicate the battery level. You can find all these little nice details all over the keyboard.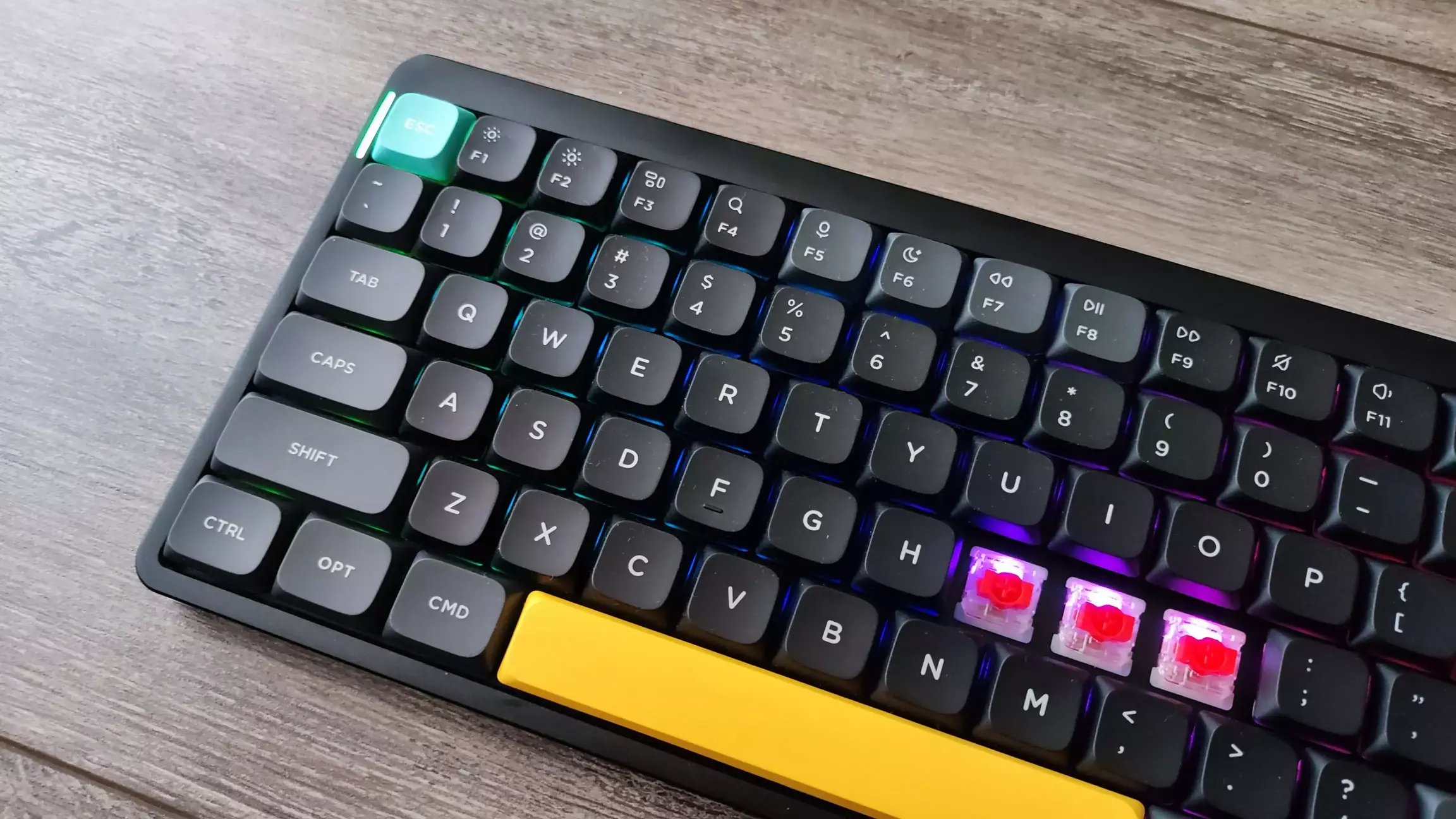 The PBT keycaps have a super smooth finish and providing a really good typing comfort. I am super impressed by the even sound of the space bar, the stabilizers are doing a great job here. Time will see how well the keycaps will last after excessive usage.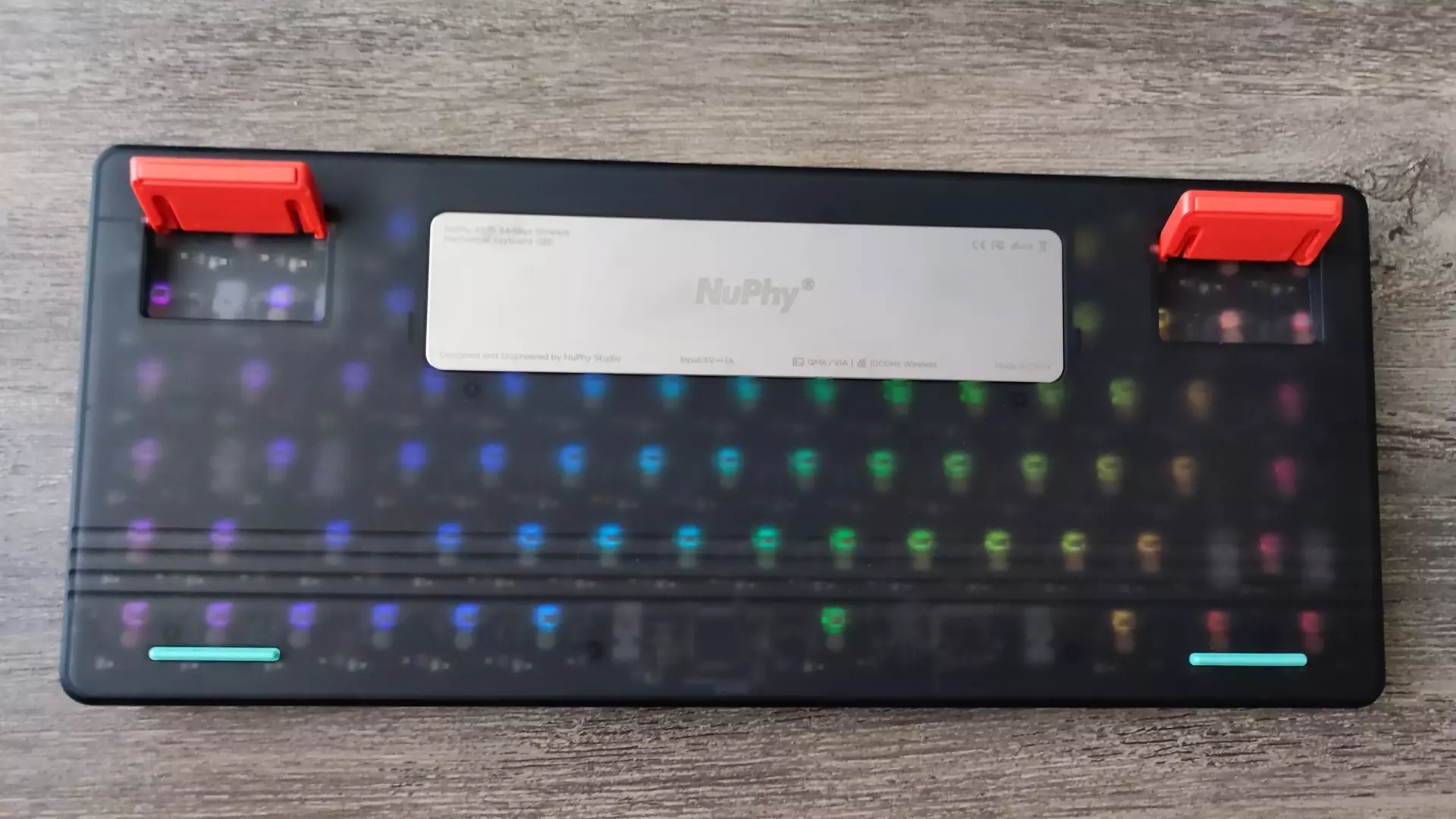 The Nuphy Air75 V2 weighs slightly more than its predecessor at 598 grams, making it feel substantial. The aluminum frame and polished metal backplate lend it a solid and premium feel. For adjusting the keyboard angle, there are foldable rubber feet available in two sizes.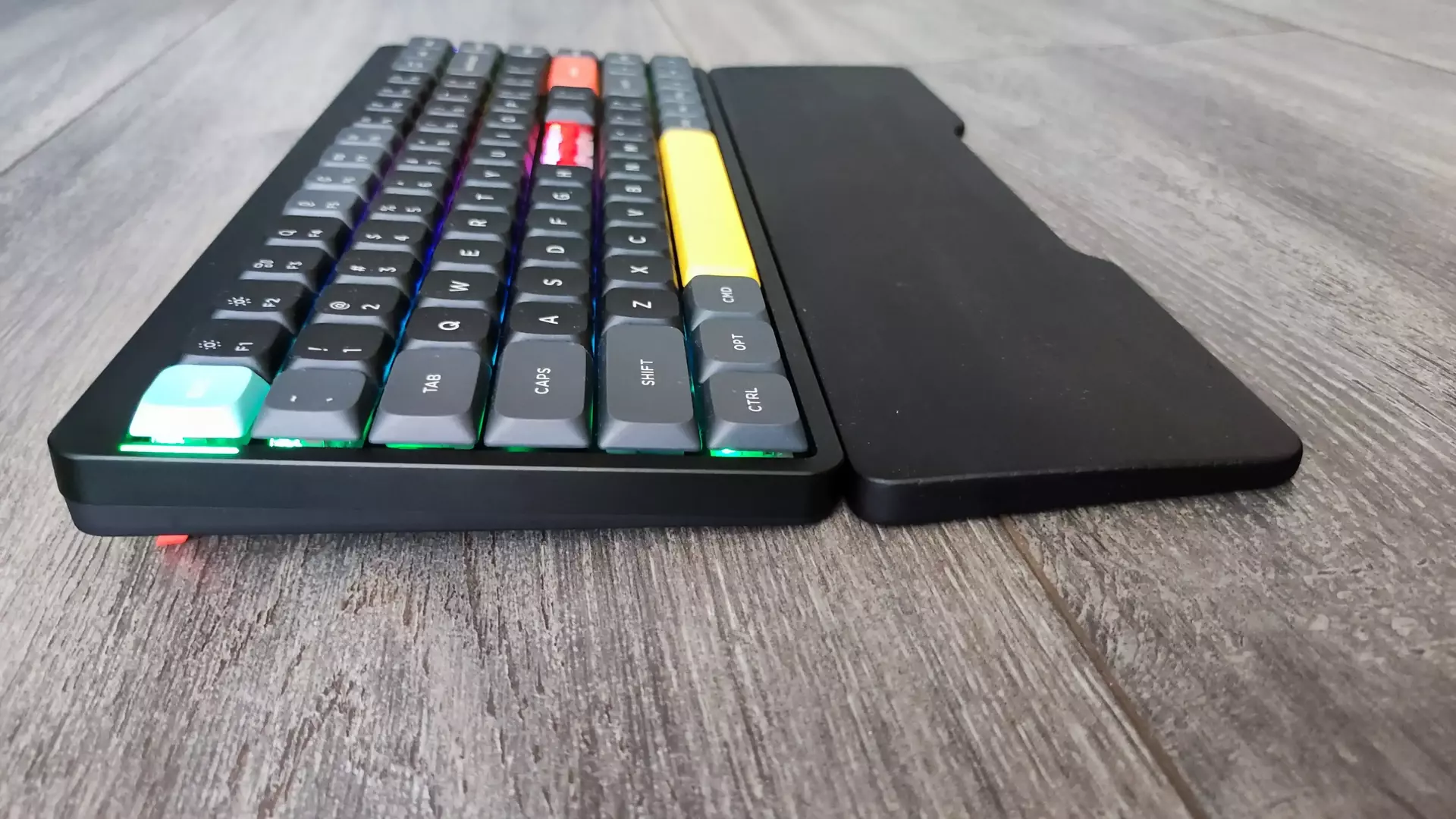 One thing that bothers me quite a lot when it comes to keycaps is the limited options for low-profile keycaps. Nuphy does sell some keycap sets, but there seems to be a significant lack of customizability. I think the original keycap set looks decent, but you can't replace the bright yellow space bar without purchasing a whole new keycap set. I'd love to see a mint green or even a plain black space bar as an alternative to give the keyboard a more professional appearance.
Sound Test
In my experience, the Nuphy Air75 V2 delivers exceptional sound straight out of the box. I opted for their standard red 2.0 low profile switches. While I don't consider myself an exceptionally fast typist, I've noticed a boost in my typing speed from an average of 70 wpm to 85 wpm, especially in comparison to my previous, non-low profile keyboard. Acoustically, the keyboard holds its own, though there's occasional rattle which could be intrinsic to its low-profile design. I'm contemplating some modifications that might enhance the sound slightly. Nevertheless, for a pre-built keyboard in its price range, I'm genuinely impressed by its smooth sound quality.
Performance and Features
Battery Life and Connectivity
The keyboard boasts a 1000Hz polling rate, ensuring optimal performance even for gaming enthusiasts. Nuphy estimates a battery lifespan of approximately 35~57 hours with all lights activated, and up to 220 hours when lights are off. In my testing, I found myself recharging after 12 days—though I don't spend 8 hours typing non-stop, which means their metrics seem fairly accurate. Prior to purchasing the Nuphy Air75 V2, I was apprehensive about connectivity, given my past experience and the Air75 V1's not-so-stellar reviews in this department. To my delight, Nuphy has made significant improvements, enabling swift connections both via Bluetooth and 2.4GHz.
Finally QMK/VIA made it into a Nuphy keyboard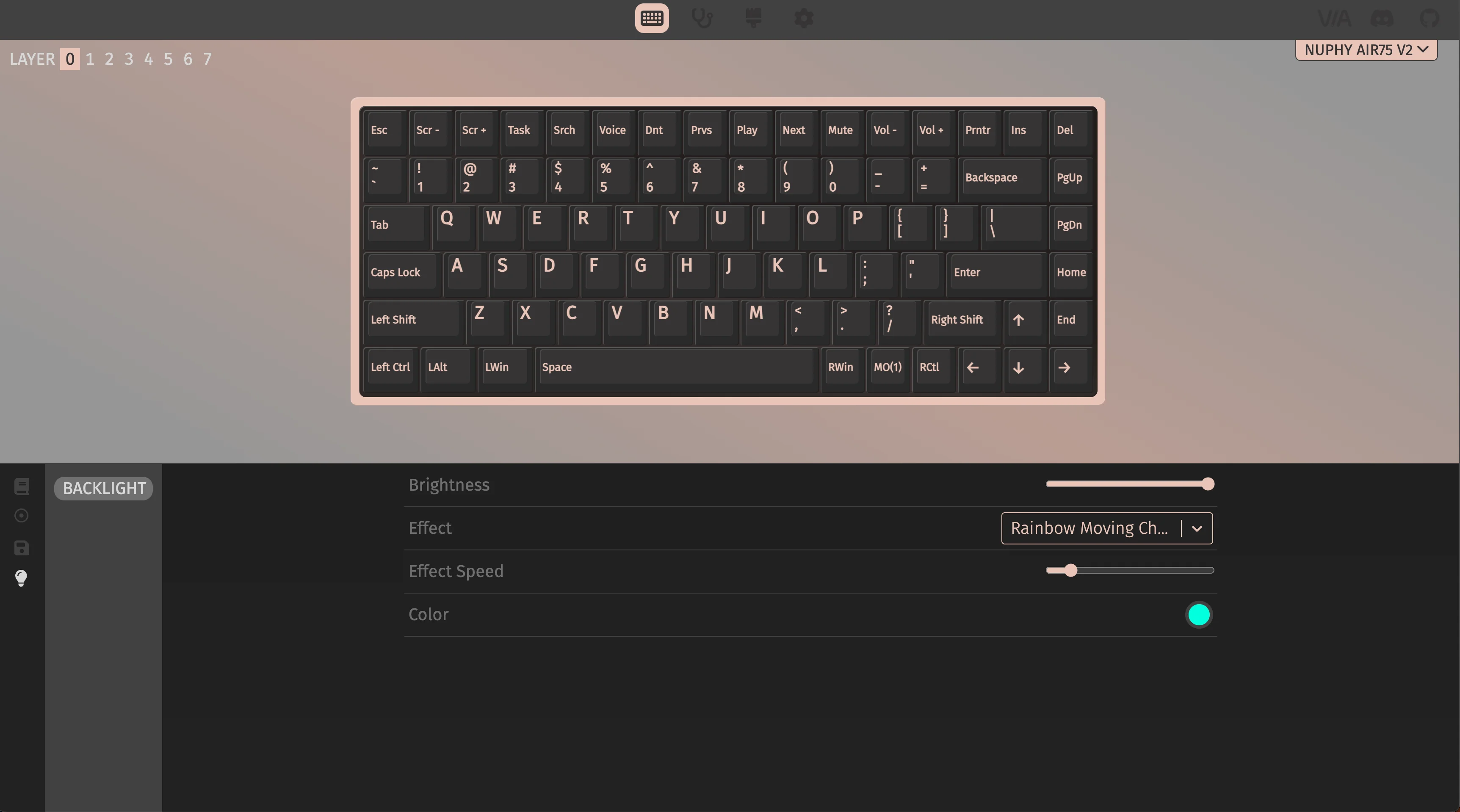 As a programmer I love QMK/VIA since it is a open source software that lets you remap keys, customize light and has rich platform support. You can even use the web client to configure your keyboard without the need of downloading a driver. Nuphy provides quite clear instructions on how to use the VIA user interface, you can find it here.
Value for its price
Spending over $100 for a keyboard seems crazy to some people. I think it's quite affordable for a tool that I use everyday at work. The Nuphy Air75 V2 comes with a price of $119.95, since I pre-ordered it I had the chance to get a free white keycap set and a discounted wrist rest.
The real pain for me was the shipping fee, I had to pay $24.99 just for shipping to germany. For me that is almost no-go when it comes to order items in general. I almost did not order it just because of that. In the end I am very glad I did, but that is something to consider.
Overall I paid around $150 for the keyboard coming with a wrist rest and an extra pair of keycaps. I think this price is a real good deal taking the build quality and its features into account. People who are a bit deeper in the mechanical keyboard hobby know that this is a quite low to mid tier price tag.
Keychron S1 - Alternative to the Air75 V2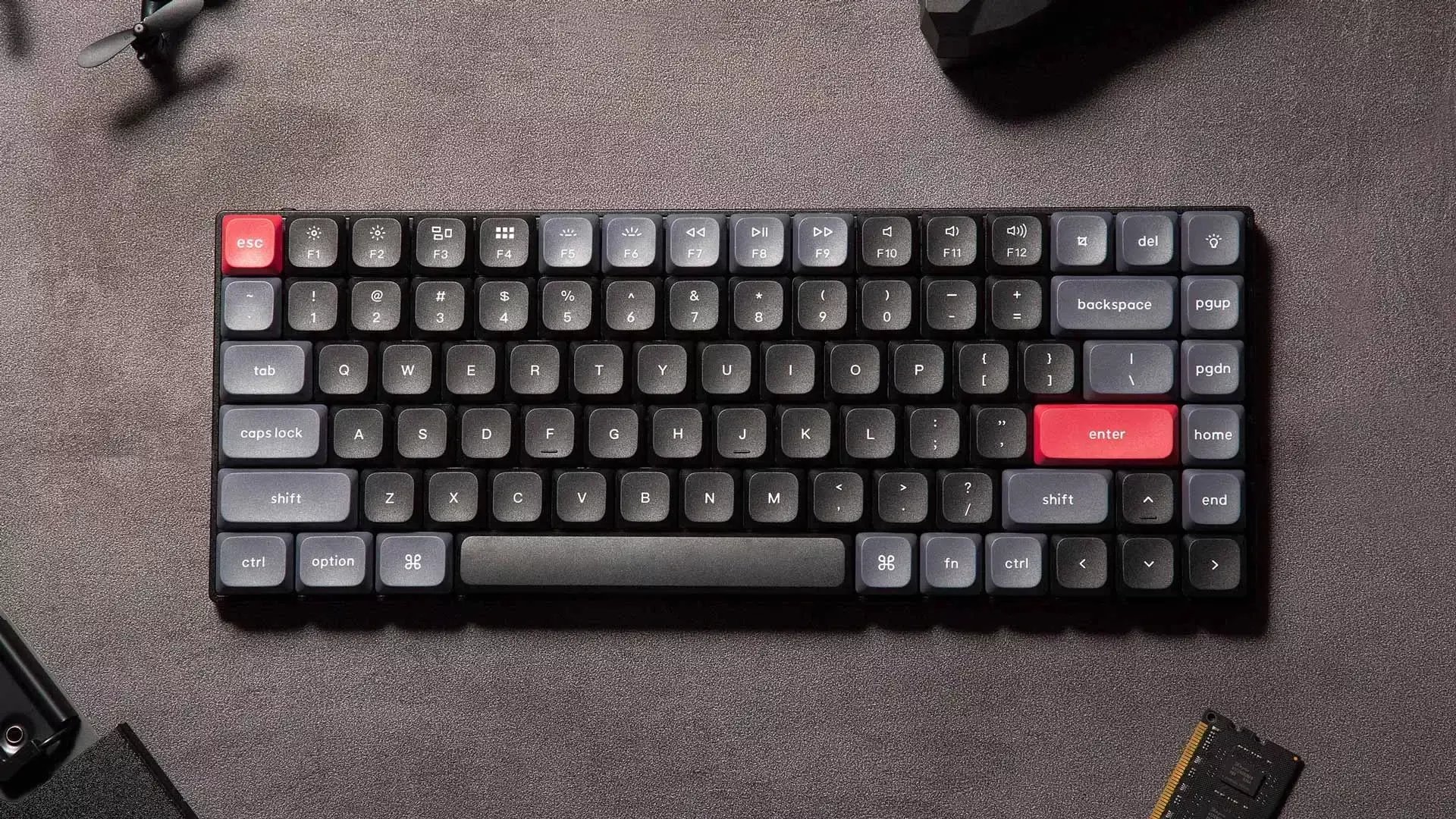 Not many keyboards offer the feature set that comes with low-profile models, but within our extensive keyboard collection, there are some gems that do. Take a moment to browse through our selection here.
If you're in search of something comparable, the Keychron S1 is a standout. It also comes with QMK/VIA support, a low profile, hot-swappable switches, and a 75% layout. Now, I haven't had the pleasure of calling this keyboard my own, but I did get to test it out once. It really held its own, especially considering the price. But if I had to pick, I'd lean towards the Nuphy Air75 V2 every time. The build quality just feels more premium, more substantial. The Keychron S1, while a tad more wobbly and lighter, could be just the ticket if you're after top-notch portability and you're really into the feel of the keyboard and keycaps.
Overview of Specifications
| Feature | Specification |
| --- | --- |
| Layout | ANSI 75% |
| Number of Keys | 84 |
| Hot-swappable Support | Yes |
| N-key Rollover Support | Yes |
| Backlight | RGB-LED |
| Compatible Systems | macOS/ Windows/ Linux/ Android/ iOS |
| Battery Capacity | 4000mAh |
| Working Time (all lights on) | 35~57 hours |
| Working Time (all lights off) | Up to 220 hours |
| Frame | Aluminum |
| Bottom Case | ABS |
| Keycap | Double-shot PBT |
| Dimensions | 316.4 mm x 132.5 mm x 13.5 mm |
| Weight | 598 grams |
| Mode | 2.4GHz, Bluetooth or Wired (USB-C) |
| 2.4GHz Polling Rate | 1000Hz |
| Bluetooth 5.1 Polling Rate | 125Hz |
| Wired Polling Rate | 1000Hz |
Conclusion and Recommendation
After spending considerable time with the Nuphy Air75 V2, I've found it to be a reliable and well-crafted keyboard. Its build quality, battery life, and the inclusion of QMK/VIA support are commendable, making it a strong contender in its price range. However, it's not without its imperfections—the limited keycap customization options being the most evident. I hope Nuphy addresses this in future iterations.
For gamers, the responsiveness and performance of the Air75 V2 will not disappoint. Its 1000Hz polling rate ensures swift reactions, essential for competitive gameplay. Meanwhile, office professionals will appreciate its sleek design and the versatility it offers through software customization.
In summary, while the Nuphy Air75 V2 may not be the absolute 'perfect' keyboard for everyone, it's a solid choice that has a lot to offer. Both gamers and office users should consider giving it a try.
Your Feedback Matters!
I believe that every review can be enhanced with diverse perspectives and feedback. If you've had experiences with the Nuphy Air75 V2 or have any suggestions on this review, I'd genuinely appreciate hearing from you. Please feel free to share your thoughts and feedback at hello.keebfinder@gmail.com. Your insights will not only help me but also guide others in making informed decisions.